Rev. Brendan G. Harris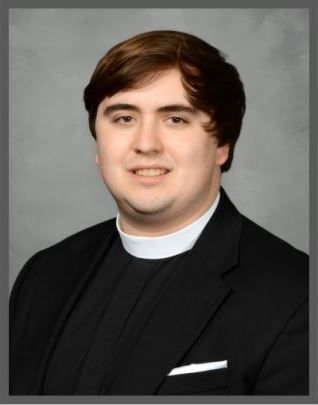 Brendan Garrett Harris was born in Charlevoix, Michigan, near the northern tip of the Lower Peninsula. He grew up in Boyne City, MI. His home church is Hope Lutheran Church in nearby Bellaire, MI. His parents are Mark and Jill Harris and he has three younger siblings: Christian (22), Madeleine (18), and Cameron (16). After high school, Harris attended the University of Michigan in Ann Arbor where he majored in Music and History. He completed his studies in three years and graduated in 2018. That fall he enrolled at Concordia Theological Seminary in Fort Wayne, IN. After two years of study, Harris completed a vicarage at Immanuel Ev. Lutheran Church in Terre Haute, IN. He returned to the seminary to complete his fourth year of study. In April of this year, Harris received a divine call to serve as pastor of St. John and St. Paul's Lutheran Churches.

Rev. Harris says, "I thank the Lord that He has blessed me in my journey thus far, and I pray that He will bless us all together by His Word preached and Sacrament administered at these altars, by this His unworthy servant. Glory Be to God Alone."
St. Paul's Lutheran
Our Mission is: To connect people to Jesus Christ, the Savior, through the Gospel so that all may discover "Real Life" for eternity.

Our Vision is: To equip ourselves with the Word, through study and worship, so we may use our God-given talents to share the Gospel with everyone.

History of congregation: The congregation was formally organized May 15, 1910 under the name of the German Evangelical Lutheran St. Paulus Church of the Unaltered Augsburg Confessional of Fall Creek, Eau Claire Co. WI, and chose to be affiliated with the Lutheran Synod of Missouri. In 1970 the name was amended to St. Paul's Lutheran Church.
St. John Lutheran
Our Mission is: Under construction by Church Council
Our Vision is: Under construction by Church Council
History of congregation: German speaking immigrant families from the Provinces of Posen, West Prussia and Pomerania began settling in area around Fall Creek in the late 1850's.  Early families were served by traveling missionaries.  Pastor Wilhelm J. Friedrich was ordained and installed on October 2, 1864 as Pastor and the follow month the Congregation was formally organized as St. John Lutheran Church.  Pastor Friedrich served the congregation for 36 years until his death in 1900.  Fifteen other pastors have served this congregation since 1900.
The current historic structure dates back to 1872, as the first building was destroyed in 1870 by a tornado. An educational wing was added in 1980.  St. John was the first Lutheran congregation in all of Eau Claire County and joined the Missouri Synod in 1877.  St. John under the direction of Pastor Friedrich helped establish numerous rural Lutheran congregations in Eau Claire, Buffalo, Pepin, Dunn and Chippewa Counties.
St. John has a rich history in education and world mission outreach.  They operated a parochial school during three different periods of their history.  During the 1990's the congregation under Pastor Paul Bittner with direct involvement of members were involved in mission work in the Baltic States and Kazakhstan.
Love must be sincere.

Hate what is evil; cling to what is good.

Romans 12:9